Saint Aubin du Cormier Castle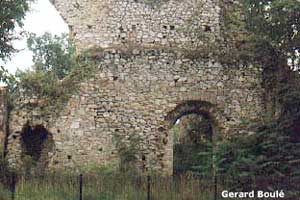 Click on one of the headings below :
The ruins of the castle of Saint-Aubin-of-Cormier point out a significant event of Breton history. Affected by the catch of Saint-Aubin, François II, Duke of Brittany, an army of 11000 men constitutes to take again the places. During the famous battle of July 28, 1488, the French troops embank their adversaries. This event announces the end of independence of Brittany which will concretize itself with the marriage Anne of Brittany and Charles VIII. Having lost its defensive interest, the castle was going to be destroyed, except the face is keep, turned towards France winner. The fortress included a whole of 10 turns including one formidable keep and formed a quadrilateral of 100 meters out of 30. There remains only the northern half of the keep and the bases of the others turns. One also finds some scraps of the main building and the wall of the vault. The external enclosure, integrated now in constructions of the borough, keeps the trace of three grosses towers in half-moon and the southern rampart which dominates the pond.
Casteland.com particularly thanks Gérard Boulé for the photographs as well as the historical text.