---
BRITTANY


Other regions
& other castles
Previous months'
selections
---
Pontivy Castle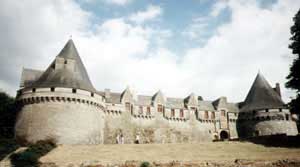 Click on one of the headings below :
It was high in XVe century by Jean II of Rohan. The frontage preserved two grosses towers at machicolation, capped in pepper plantation, on the four which the enclosure included/understood. The 20 height meters walls are bordered of ditches ever put out of water. The home seigneurial, altered at the XVIIIe century, decorates pediments with cusps and of a beautiful staircase with double revolution. One visits the room of the guards, the rooms of the first stage giving on the splendid covered way, the ducal room with the beautiful ceiling and the vault. Particularly to notice the armoiriées chimneys of the western tower. A restoration campaign is course.
Web Site
- No web site
Coordinates of the castle
Castle :

Château de Pontivy
Rue du Général de Gaulle
56300 Pontivy
Phone : + 33 2 97 25 12 93
Proprietor : City property - Listed monument
Date and schedule from the visits
The castle is open :
- All days from July to September of 10h30 at 19h
- February, March and of the 09/15 to the 11/30, Wednesday at Sunday of 14h at 18h.
- April, May, June and of the 09/01 to the 09/15, Wednesday at Sunday of 10h at 12h and 14h at 18h.
The castle is closed in December and January.


Castle-Gaillard
Normandy - France
---