Montmuran Castle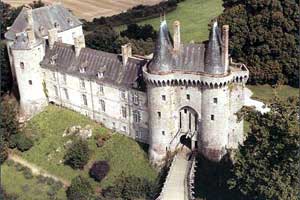 Click on one of the headings below :
Founded by the lords of Tinténiac, probably in XIe century, and rebuilt in XIVe century, the castle of Montmuran, which enjoys a splendid prospect on the surrounding countryside, draws up itself at the end of an alley of honor. The access to the castle is done by a châtelet of XIVe century, preceded by a drawbridge and framed of two grosses round towers to machicolation. The vault dates from the same time. The central main building built at the XVIIe century offers a traditional ordinance with its crowned house of a pediment which testifies to a rehandling at the XVIIIe century.
To make Absolutely : To sleep with the castle in one of the rooms of the turns of XIIe century. You will be very received there.