Castle of Tremazan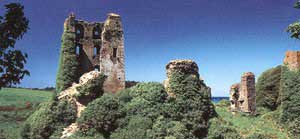 Click on one of the headings below :
This castle, located downwards and almost hidden sea, is unfortunately ruins some nowadays. This beautiful medieval building, drawn up on a rock exposure, has a square keep which while collapsing partly, during the winter 1995, exposed the interior and revealed a livable tower on four floors, sheltering each one a room. During the Average Age, Trémazan belonged to the one of the most influential families of the Leon, prolific the, martial ones and named well Of Chastel. Today, Association "S.O.S castle of Trémazan" attempts to restore the castle in order to preserve the cultural inheritance and history of the area.
The castle is not worth visiting for the moment because of work, but come to see the exposure, in the house of the canons located at less than 500 meters of the site, it will enable you to better include/understand the history of the castle.