Castle of Tonquedec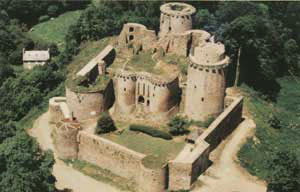 Click on one of the headings below :
The imposing ruins of the castle of Tonquédec are drawn up in a beautiful decoration, on a headland dominating the valley of Bequeathing. The castle, high at the beginning of XIIIe century, was dismantled by order of Jean IV in 1395. Rebuilt at the beginning of XVe century, it is again dismantled by order of Richelieu in 1622.

The door of entry is opposite a currently dry pond. One penetrates in a first strengthened court. On right-hand side, two towers connected by a courtine frame the principal entry of the second enclosure. By a postern, one reaches the second court. Opposite, insulated, the keep is presented, whose walls have nearly 4 meters thickness. A stone staircase of 70 steps leads to punt forms. The sight makes it possible to discover the plan of the castle and reveals the nature of the country trégorrois. For more than fifty years, the owner of the castle of Tonquédec have undertaken and succeeded the release of the courtines, the walls and the eleven turns of water. Now, after having to gain their prime objective, they will be able to undertake the interior restoration.
The castle is open all days :
- from April at June of 15h at 19h
- from July to August of 10h at 20h
- In September of 15h at 19h
- In October only saturdays and Sunday of 14h at 18h
The castle is closed November in the months March included