Castle of Pesteils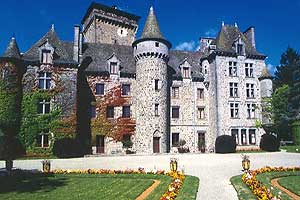 Click on one of the headings below :
In a remarkable site, on a rock headland dominating the valley of Cère, the castle of Pesteils rises (XIIIe, XVIIe and XIXe century). The frescos of XVe century, its plafonts painted XVIIe, furnishing, the tapestries, paintings evoke last this residence seigneuriale. The keep, the top of its forty meters, makes you discover an unforgettable sight on the mounts of the Cantal. The park and the terrace offer one of the most beautiful panoramas of the area.
Casteland.com particularly thanks the owner of the castle for the photographs, the texts as well as the information on castle.
The castle is open all days :
- on April 1 at June 30 of 14h with 18h30
- on July 1 at 31 Aout of 10h with 19h
- on September 1 at October 31 of 14h with 18h30
The castle is closed of November 15 at safe March 31 for the groups on reservation.