Castle Dauphin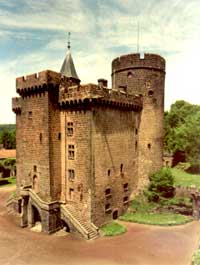 Click on one of the headings below :
Built in 1190 per the toubadour Robert 1st, dolphin of Auvergne, Dauphin Castle was supplemented in XVe century by the marshal Gilbert III of Fayette, then restored at the XIXe century. It is a medieval stone fortress of gray lava whose body of principal building dominated by a circular keep of XIIe century occupies the center of a low flanked court of six turns of XVe century. The interior, restored at the XIXe century, shelters a furniture of XVIe and XVIIIe centuries, like tables, earthenware and miniatures of the XVIIIe century. You will also find there a museum of the money mines of the canton of Pontgibaud.
Casteland.com particularly thanks the owner for the castle for the photographs.