Castle of Ravel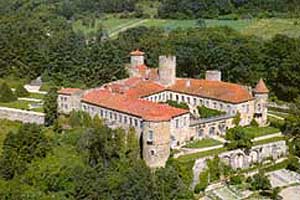 Click on one of the headings below :
The construction of this vast fortress, royal property, goes up with 1147 and that of its gardens at the XVIIIème century. It is always inhabited by the descendants of the family of Riberolles: Mister and Mrs Etienne Brochot, their children and little children and the Ramos.enfants family and little children. Famous families: Flote, of Amboise, Rochefoucault, Combourcier of Terrail and more particularly the family of Estaing also lived it.
Casteland.com particularly thanks the owner for the castle for the photographs as well as the text.