---
AUVERGNE

Other regions
& other castles
Previous months'
selections
---
Castle of Huriel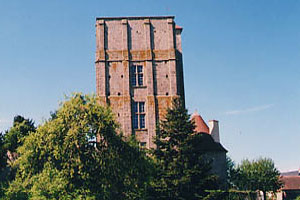 Click on one of the headings below :
Huriel is likely to have two remarkable listed monuments allotted respectively to XIème and XIIème centuries: the Church Our-Lady and the Keep. One indicates this last under the popular name of the Hat because of his old pointed roof which capped the building of XVème century at 1903. It is one of the last large Romance keeps quadrangular still visible in France.
Web Site
- huriel.pays-allier.com
Coordinates of the castle
Castle :

castle of Huriel
03380 Huriel

Phone. : + 33 (0) 04 70 28 60 08
Email : huriel.03@wanadoo.fr
Date and schedule from the visits
The castle is open all days :
- of 9 H with 12 H and 14 H with 6 p.m. (18. 30 in summer) Except July-August closed the W.E except reservation
Guided tour for group starting from 5 people

Free keep and expo/Museum 2 €, free entry for less than 12 years.


Castle-Gaillard
Normandy - France
---