Castle of Hérisson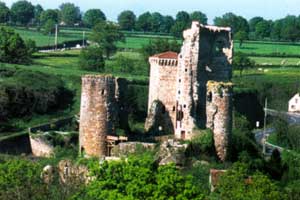 Click on one of the headings below :
The imposing ruins of the castle of Hérisson dominate the valley of Aumance and the old strengthened borough. The turns, the courtines, the keep and the remainder of home go up in XIVe century. This property of the dukes of Bourbon was taken by Louis XI in XVe century, then taken again by the princes two centuries later, before being dismantled by Mazarin.
Casteland.com particularly thanks the Town hall for Hérisson for the photographs, the texts as well as the information on castle.