History of the castle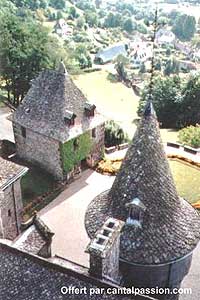 In a remarkable site, on a rock headland dominating the valley of Cère, the castle of Pesteils, named rises fortress of Polminhac until the end of XVIe Fantastique monument of the military architecture, the forty height meters colossal keep evokes the Middle Ages in its harder expression; glorious testimony of what was to be this fortified town of the Cantal.
On the 1st floor, the room seigneuriale is decorated of two mural frescos of XVe century. The covered way offers a splendid sight on Lead of the cantal. The attacks, the seats, the religious fights ended. The fortress is transformed then into residence of approval XVIIe leaves us rooms comprising of the ceilings painted with the rich colors and chatoyantes.
It is necessary to await the end of XIXe to give to this fortress the aspect that we know to him today. Very beautiful tapestries, paintings of Master, pieces of furniture of time relative this unit. Pesteils enorgueillit to enjoy itself one of most beautiful the park of the Cantal. The castle and the site are classified historic building the visit of the castle crosses seven centuries of history cantalienne through the same family.