Castle of Kings ducs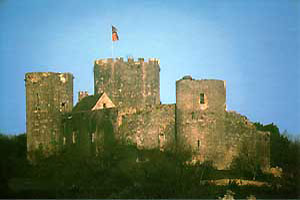 Click on one of the headings below :
The castle of Kings Ducs provides the most beautiful example of architecture castrale of the reign of Edouard II, in Gascogne. It forms a digest, with the small foot, large Welsh fortresses built by the same king at the end of XIIIe century for as much, the less elaborate general structure proves than Sauveterre was not, in the whole of the royal chess-board, than a pawn among others, and than its structure was determined by local architects, without particular intervention of the Masters who developed at the same time Welsh architecture. For as much, this does not withdraw anything with the interest the archères present in the building which were, they, directly inspired by the archères installation in the fortifications on the other side of the channel. The castle of Kings Ducs is burned in l789. 200 years of abandonment gave place to 20 years of careful and authentic restoration. Today with the castle one can find the atmosphere of the high age means, visit his museum, his beautiful arched rooms, his covered way and his medieval garden.
Casteland.com particularly thanks the owners for certain photographs, the texts like in Jérome for the other photographs. We advise you to visit his site dedicated to the castle.