---
AQUITAINE


Other regions
& other castles
Previous months'
selections
---
Castle of Villandraut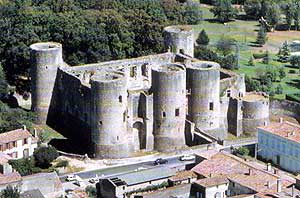 Click on one of the headings below :
Villandraut constitutes with the close castle of Roquetaillade an example among purest to architecture castrale of the years 1300 in Guyenne: the influence of the castles built by Édouard III of England in Wales, itself marked of the originating seal philippien is manifest there. It has the immense advantage, compared to its neighbor, not to be restored. But, beyond its military carapace, the castle of Villandraut is also a palate built for the pope (who hardly resided at it more than three months...): A palate organized in three wings, with a perfection equivalent to that of Perpignan, about contemporary.
Casteland.com particularly thanks the owners for the castle of Villandraut for the photographs, the texts as well as the information on castles.
Web Site
- www.assoadichats.com
Coordinates of the castle
Castle :

Villandraut castle
Adichats / Maison Labat
33730 Villandraut

E-mail: asso.adichats@yahoo.fr
Phone: + 33 5 56 25 87 57 Fax: + 33 5 56 25 86 78

Proprietor : private property - Listed monument
Date and schedule from the visits
The castle is open all days :
- du 1er mai au 30 Juin de 14h à 18h
- du 1er juillet au 30 septembre de 10h à 19h
- du 1er octobre au 30 novembre le samedi, dimanche, et jours fériés de 14h à 18 h
- du 1er fevrier au 30 avril le samedi, dimanche, et jours fériés de 14h à 18 h

Tarif :
Tarif normal : 3,50€
Tarif réduit (enfants et étudiants) : 2,00€
Le chateau est fermé du 1er décembre au 31 janvier


Castle-Gaillard
Normandy - France
---