Castle of Saint Emilion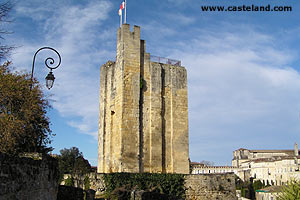 Click on one of the headings below :
Saint Emilion emerges from this unit, city clutched in amphitheatre in a notch of rock hills dominating the vast basin crossed by the Dordogne and the beautiful road of Libourne in Bergerac. De.toutes.parts emerge from the varied and picturesque sites, of the majestic ruins, where the amateur of history, archaeology and good expensive will find the occasion to spend a pleasant day. Here, Art is everywhere closely associated the History, this picturesque small city all being at the same time quoted sanctuary, religious city, quotes warlike and, floret being added to all the others, capital of one of the most re-elected viticultural areas France, known and estimated universally.
Casteland.com particularly thanks the tourist bureau for the text as well as the information on the castle.