Castle of Roquetaillade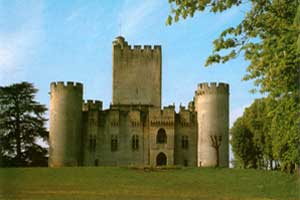 Click on one of the headings below :
Roquetaillade, in the heart of Aquitaine, is an architectural unit composed of two XIIe century castles and beginning of XIVe, both inside the same enclosure. The same family occupies it since 1306. Two significant restorations marked its history: that of the Rebirth which left monumental chimneys in particular and that of Viollet-le duc, at the XIXe century, which transformed the building into palate fortress with the assistance of Edmond Duthoit. This last decorated more particularly the Michaelmas vault. A park with the frondaisons centenaires surrounds the building. The Association of the Friends of Roquetaillade created an alive rural museum, "the Smallholding", located at the doors of the castle and which has pigeon single the XIIe century. This museum is a reconstitution of the rural life around 1850 with its animals, its objects, its instruments, its decoration, its odors.
Casteland.com particularly thanks the owners for the castle of Roquetaillade for the photographs, the texts as well as the information on castles.
The castle is open all days :
- on July 1 at August 31 of 10h30 with 19h
- of Easter to November 11 all after midday of 14h30 with 18h30
- from November 11 at Easter all after midday of 14h30 with 17h Sundays, public holidays and school holidays Bordeaux zone