History of the castle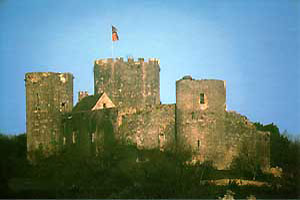 Agenais (the lot and the Garonne of today), which forming part in the past of the dowry of Aeliénor of Aquitaine, returned, in 1279, in Plantagenêt suzerainty following death without child of Jeanne, girl of Louis IX (Saint Louis ). Edouard 1st, Duke of Aquitaine and England King charged Guilliame of Geneva, his maitre-mason, of the construction of the fortress on this calcareous spur already inhabited by the Gallo-Romans.
It is about one century of peace and prosperity. Work is completed with speed but with an exemplary care. during the maudit XIVe century, the fortress be become the den of Prince Black to beginning of the One hundred Year old War of, and the point strong single of line of country house English - Monpazier, Monflanquin, Villeréal etc.
But in 1433, the seat assembled by the partisans of "King de Bourges" Charles VII, is successful by means of a sap under the Southern courtine After the retirement of the English in Bordeaux and of the famous battle of Castillon, lost by John Talbot, Earl of Shrewsbury, the building became of no importance military. The only response of king Plantagenêt Henri VI, with the loss of this part of France, is a tax on the wine, which always exists, 500 years later.
Given to Naudonnet de Lustrac by Charles VII, and successively inhabited by its descendants and various noble families, the castle was burned and plundered by the Paganel Revolutionist. It is given up and forgotten during almost 200 years, except by people who did not hesitate to borrow his beautiful stones to build their houses with with dimensions. However the castle has escaped with the abusive restorations of the XIXe century. In 1936 Jean Mermoz, impassioned by the beauty of the ruins seen of his plane, bought, but it disappeared, drowned, before being able to tackle the care which they deserve. Thanks to its visitors and his/her friends, significant work was completed in order to carry out a repairing.