History of the castle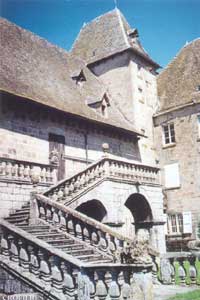 Intended to bar the valley of Goul, the first castle of Cropières was a powerful fortress whose center was a high crenelated keep. It belonged initially to a family of Cropières which was based in XIIIe century in that of Montjou. In 1261 Géraud de Montjou and 1266 Azémar de Cropières pay homage to the count de Rodez but disavow this one to line up under the banner of Alphonse of France, brother of Louis Saint and count de Toulouse, which was worth to them to be condemned to died and to be carried out.
In 1381 during the One hundred Year old War, the Cropières castle was taken and burned by English. Rebuilt by the family of Montjou, it passed by successive marriages, with the families of Fontanges (1508), Scorrailles (1616) and Valady, (1746). Christian de Chefdebien accepted it in heritage of his mother born Valady.
Marie Angelica de Scorrailles, duchess de Fontanges was born in Cropières in 1551. His/her grandmother, Guillemine de Fontanges, had completed large work of consolidation of the for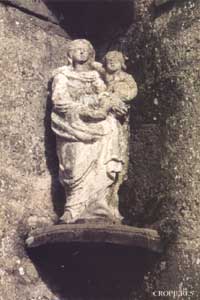 tress by preserving her feudal and military character to him: three main buildings, two crenelated towers and wind vanes. It borrowed as well for that as Cropières was seized and sold, but the dowry which his/her son Jean Rigal accepted when he married Eléonore of Plas made it possible him to repurchase it later a few months.
Into 1720 Jacques Antoine de Valady, marquis de Scoraille-Roussille transformed the old fortress into a more livable residence, shaving the fortifications (except the tower of angle always present and the Northern main building). During the Revolution one of Valady was guillotine and Cropières almost entirely plundered, so that its descendants ceased living it.
About 1910 a good half of the Northern wing broke down involving in its ruin a fort beautiful vault and most of the apartments. The unit was classified "Historic building" in 1986 (only the staircase was it before).