History of the castle
2 - The keep of the castle of Roy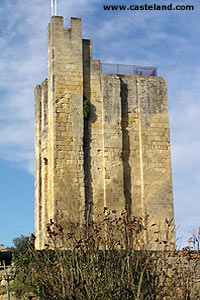 Last still intact Romance keep in the Gironde, its construction begins as of completion from the ramparts.
In a charter of 1224, Louis VIII, the King of France which went Master of the territories to the North of the Garonne, fact share of its decision of building a fortress in the enclosure of the city; but work will start only in 1237, on request of Henri III of England, whereas the area again passed to the hands of the English sovereign.
The texts do not enable us to determine which of the two sovereigns chose the site for the construction of this keep: it is isolated from the center of the city and the principal axes of circulation and is protected on three sides by a ditch dug in the rock.
Side city, the escarpment of the calcareous rock constituting the base of construction is levelled by two terraces.
14.50 height meters square tower, of walls and 9 meters per flanked face of three buttresses each one, it 2.25 meters thickness is a typical example of the style "Anglo Normand", very antiquated for the time, it does not testify to aucuns of the technical progress carried out since the end of XIIe century and attests permanence of the tradition of Romance military construction in the Western South.
The terrace of the top was probably covered with the Middle Ages, because there remains facings of wall between the two small towers of guets which surmount the tower.
The interior of the tower counts three stages: the room of rez of roadway is arched in cradle. A spiral staircase leads to the higher room whose it vault lies in cradle disappeared. Lastly, one reaches the last room by a staircase with right flight.
None of these rooms comprises chimney, it thus did not act certainly of a residence seigneuriale, but rather of a defensive keep intended to supervise and protect the neighbourhoods, as much as symbolically meaning the sovereignty of the King.
During the Middle Ages, the keep accomodated the meetings of Jurade before this one does not settle with the top of the markets of the market.
Today, twice per annum Jurade goes up in procession at the top of the tower, to celebrate there the chapter of spring in June and the round of applause of the grape harvest in September.
Research: Sylvaine Bégouin and Valerie Noyé
Drafting of the text: Valerie Noyé