November 2003
La France des châteaux forts
Danièle Alexandre-Bidon
et François Piponnier,
illustré par Pierre Joubert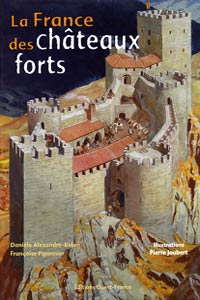 "the castles of the Average Age, still present in the landscape of XXIe century, are only one negligible share of those which were built then modified during centuries.

First wood castles remain visible only the "ground mounds" on which they were drawn up. Only archaeology makes it possible to restore their appearance and the way of life of their owners.

The richest lords little by little replaced these buildings by vaster stone castles, which changed under the pressure of the military techniques and their progress.

But the role of the castles is not limited to that of fortress. Located either in the cities, or in the campaigns, proportioned with the statute and the fortune of their owners, these castles are also the administrative center of the fields and the place of dwelling and perpetuation of a chalk-lining. They are like the framework of feudality. History, archaeology and iconography of time contribute here to give again life to them "

The opinion of Casteland: It is a pure moment jubilatoire which the editions West-France offer to us here. Late Pierre Joubert undoubtedly unconsciously started the vocation of many young people medievists. What to add in front of such a bright talent, worthy of Evariste Luminais and other Luc-Olivier Merson? Do the words miss... Fabulous!
Philippe Contamine, « La Guerre au Moyen Age », Paris, PUF, réed. 1999.
LA FRANCE DES CHATEAUX FORTS

Auteur : Françoise Piponnier
Editeur : Ouest-France
Genre : Fortification

Prix éditeur : 10,00 €
Prix alapage.com : 9,50 €
Vous économisez : 0,50 € (-5 %)