March 2004
« Les Vikings de la Charente
à l'assaut de l'Aquitaine »
Jean Renaud
éditions Princi Negue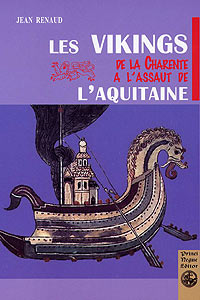 "One is hardly accustomed to associating the south-western quarter of France to the Vikings. However in fact the islands of the Atlantic coast underwent their very first incursions, in 799. From their bases, in particular on Charente, the Vikings break on Aquitaine of IXe century, then in prey with one of the wars meutrières which oppose Francs and Aquitanian "

Jean Renaud, professor at the university of Caen and specialist in the Vikings, is based on many sources written of the Average Age for entrainer the reader on the traces of these men of North come to the attack from the Aquitaine rich person

The opinion of Casteland: Those which thought the phenomenon Viking exclusively circumscribed of the North-West of France will be for their expenses. In this well illustrated work, Jean Renaud, specialist uncontested in the Scandinavian world, delivers to us as with his practice a detailed and enthralling analysis. He also shows at which point the Scandinavian invaders benefitted everywhere from the technological superiority that conferred their famous ships to them, but also confirms their aptitude to be played admirably of internal divisions of the honest world. To read and read again!

Jean Renaud "Vikings of Charente to the attack of Aquitaine", editions Princi Negue, Pau, November 2002.