Castle of Chalmazel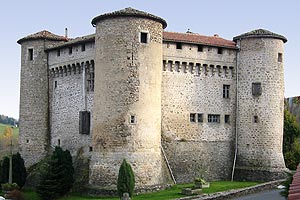 Click on one of the headings below :
History of the castle
In the heart of the "Mountains of the evening", in the only ski resort the top Drill, with the country of the strong castles:de Couzan, of Marcilly, of Rochefort, of Urfé, there or the rebirth sowed the first heads of works of the new Italian art, the castle of Chalmazel throne, dominating the valley of Lignon, that of Astrée, Honore d' Urfé who will throw themselves later in the still young Loire, after having crossed the way of St-Jacques, with the foot of Montverdun and of Bastie. Since 1231, the proud castle of Marcilly Talaru remained intact, with its covered way, its underground, crossing the war of feudality, fortress inexpugnable according to the wish of its founder the count Guy IV of drill. The marquis de returning Talaru of the wars of Italy will add only its embellissements to him Rebirth: its frontage, galleries of the interior court, paintings of the vault. Come to revive eight centuries of history, to 60 Kms de Roanne, of St-Etienne, at less than one Clermont ferrand and Lyon time.

Casteland.com particularly thanks the owners for the photographs as well as the information on the castle.