---
Rhône Alpes

Other regions
& other castles
Previous months'
selections
---
Pierregourde Castle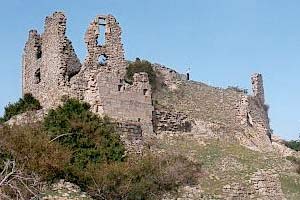 Click on one of the headings below :
The site of Pierregourde is a typical example of these majestic ruins (the tourist guides speak about "romantic" ruins) disseminated a little everywhere on the heights of Vivarais. Here, it is about a construction of XIIIème century, altered thereafter and today practically with the abandonment. It remains little of things of the castle in itself put aside of the scraps of the walls of the main building. But all the vestiges of constructions which are staged on the southern slope let guess that there was a significant unit. The castle seigneurial at the top of a rock piton (with more than 600 meters) dominates a whole village indeed where the small stone-built houses were built on kinds of terraces. Let us recall that Vivarais, small country of old France, was attached to this one only in 1305. It was hitherto ground of the Saint Worsens Romain Germanique, his capital being Viviers. Become the department of Ardeche today, it A Deprived as prefecture but the seat of the catholic diocese is remained in Viviers.
Text and photographs of Gerard Boulé
Web Site
- No web site
Coordinates of the castle
Castle :

Château de Pierregourde
07800 Gilhac-et-Bruzac
Date and schedule from the visits
Free accesses and visit all the year. To reach Pierregourde since the valley of the Rhone, one leaves the RN 86 in Beauchastel in direction of SAINT LAURENT of the Pope by D 120. On right-hand side after the church of SAINT LAURENT, one takes D 266. This small road, very narrow, mountainside makes it possible to reach the village of Girbaud then one finds on the left a empierré way which gives access to the castle. It is necessary to make approximately 2 km with foot since the small carpark but this walk is the occasion to discover the wild tops of High Vivarais.


Castle-Gaillard
Normandy - France
---