Baux of Provence Castle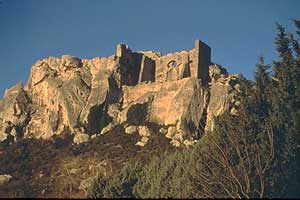 Click on one of the headings below :
Camped on the rocky outcrop of Baux-of-Provence, bordered of two ravines à.pic, the Castle of the Baux, at the same time imposing site and monument of legend, extends on nearly 7 hectares. Its majesty and its many centers of interest make of it a visit impossible to circumvent for which wants to discover Provence. Medieval fortified town with the borders of Languedoc, Comtat Venaissin and Provence, the Castle of the Beams was with the lasting conflicts of the centuries: Provence was at the time the object of all covetousnesses. The visitors thus discover the tumultuous past of Provence, thanks to a given audioguide gracefully, the time of the invasions sarrasines and houses troglodytic, the courses of courtly love at the time medieval, the Rebirth, the Lords of the Baux and their relationships to the royalty...
Casteland.com particularly thanks Culture Spaces for the photographs as well as the texts.