History of the castle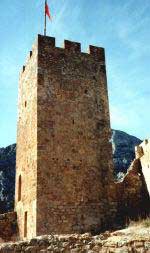 Vassal of the baronnie of Pégairolles, the seigniory of St-Jean-of-Buèges appears for the first time in the texts into 990. Its castle does not seem to go up beyond XIIème century. Then station of monitoring, the keep shelters only one weak garrison. Altered and increased to the XIII and XIV 2nd centuries, the castle is surrounded by a first enclosure with loopholes on the most exposed side. The cistern and the store are installed, essential elements of survival.
In 1593, the castle fell to Jean de Trinquière. In 1679, the lord of Cambous, a powerful chalk-lining and rich landowner repurchased the castle and its transformation into an organized space testifies to a will of setting to the style of the day of the unit: qualities of comfort take precedence from now on over those of defense. In 1703, the monument is used as refuge nevertheless with the population of the village terrorized by the passage of groups of Camisards.
In 1749 the castle is described like "a ruin" and is undoubtedly used as stone quarry, visible on certain houses of the village. In 1813, the family of Turenne sells the ruins of the castle in Hilaire de Girard of the Lake, gentleman glass-maker, of which the heiress in 1848, wife Henri Sicard. Certain ramparts will have gone up, the castle is used as sheep-fold.
In 1987 Joseph Sicard makes gift of the castle to the commune.
In 1990 work of safeguard and restoration are undertaken.