---
Languedoc
Roussillon

Other regions
& other castles
Previous months'
selections
---
Beaucaire Castle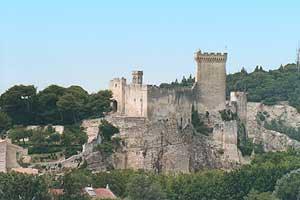 Click on one of the headings below :
This fortress, which is one of largest of France, was rebuilt under Saint-Louis after the annexation in 1229 of Languedoc to the Royal field. It supervised the Rhone, then border with Provence, and was destroyed on the order of Richelieu. By the strengthened door, one sees the triangular tower, at side the vault and the round tower are. At the interior of the garden the museum Auguste Jacquet is installed.
Web Site
- No web site
Coordinates of the castle
Castle :

Château de Beaucaire
30300 Beaucaire

Phone : + 33 4 66 59 56 72

Proprietor : City property - Listed monument
Date and schedule from the visits
The castle is open every afternoon of March 22 to November 5 except Wednesday (open public holidays and school holidays).
Schedules of the spectacles (Eagles of Beaucaire)
- March, September, October, November: 14h30 - 15h30 - 16h30
- April, May, June: 14h - 15h - 16h30
- July, August: 15h - 16h - 17h - 18h
The castle is closed of November 6 at Mars 21


Castle-Gaillard
Normandy - France
---