---
Lower Normandy


Other regions
& other castles
Previous months'
selections
---
Castle of Pirou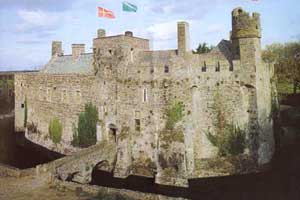 Click on one of the headings below :
Established on a site strengthened during the invasions Normans, the castle of Pirou rises on a mound in the medium of an artificial pond. Its high sandstone and schist walls go up in XIIe century. In the interior court, two home distinct remain, leaned with the ramparts: The old castle built under Henri IV and the new castle pennies Louis XIV in 1708.
Web Site
- www.chateau-pirou.org
Coordinates of the castle
Castle :

Château de Pirou
50770 Pirou

Phone : +33 2 33 46 34 71

Proprietor : private property - Listed monument
Date and schedule from the visits
The castle is open all days except Tuesday:
- on April 1 at September 30 of 10h at 12h and 14h at 18h30
- on October 1 at 31 Mars of 10h at 12h and 14h at 17h
The castle is closed in January and February.


Castle-Gaillard
Normandy - France
---