History of the castle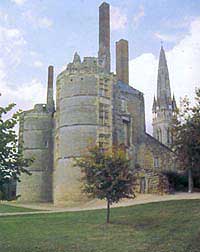 A first fortress, now disappeared, had been built in XIIème century between the current castle and the church by Brient de Martigné, first lord known in 1152, constable of Geoffroy Plantagenêt. From this medieval time, there remain only the undergrounds and the small bell-tower of the church of Romance style. The narrow loopholes built on the architectural criteria of the Average Age point out the quarrelsome traditions of this time.
In XVème century, Guillaume of Jumellière, knight of the order of the crescent, was recognized judge teller of the tournaments of King Rene of Anjou. Its grandson, Rene of Jumellière, enriched by the campaigns by Italy with Charles VIII, made built the current castle on the old square keep of XIIème century. Built in the first years of XVIème century, the castle was completed in 1503 by the architect Pierre Peyret for Rene of Jumelière. The lords of the family of Jumellière make surrounded the town of walls and to increase the castle.
The castle raises superb architectural elements of the time of the blazing Gothic and the Rebirth. The decorated round towers of mullioned windows finely carved and the vaults of the oratories are a splendid testimony of reappearing art. Charles de Cossé Brissac, Marshal of France, make transform the porch of entry at the end of XVIème century. The castle was the property of the family of Jumellière, Goulaines and Cossé-Brissac. Frontier town of the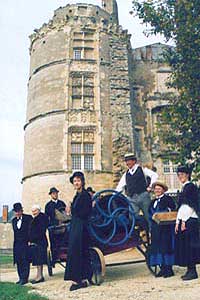 military Vendée during the French revolution, Martigné was the seat many combat between royalists and republicans. The castle was not saved and was burnt in 1793.
It is to be underlined the arrival of some famous characters to the castle. The passage of François ler to the castle of Martigné was marked by construction on the southern frontage of the sculpture of a Fleur of Lys, symbol of the royalty. Charles IX, accompanied by the young person Henri de Navarre, future Henri IV, crossed Anjou while passing by Fontevrault and Gifted-the-Fountain, from where it joined the castle of Martigné the evening of October 4, 1565, before going to the castle of Brissac. At the XIXème century, the commune becomes famous for its thermal spa.
Today, it is the wine commune of the west. Madam de Chaponay, Princess of Croy, former owner of the castle, made gift of the building on June 21, 1956 with association the Jeanne of Arc. Association the Jeanne of Arc was replaced in 1993 by the association of the Friends of the Castle of Martigné-Briand, owner of the monument. The goal of this association is the safeguard and the restoration of the castle, like its cultural activityc(ap) and tourist.