Ranrouet Castle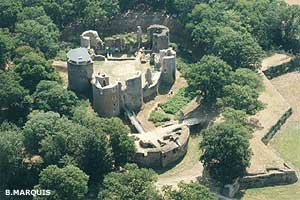 Click on one of the headings below :
The fortress of Ranrouet was located at a strategic place and ordered the entry of the peninsula of Guérande for which came from Brittany. A first castle of which there remain nothing was built to the 10 2nd century. The imposing current ruins are all that remains of the castle built between the 13 2nd and the 15 2nd century. It was dismantled at the 17th century. "an association works with its development: work of cleaning, restoration... Other associations organize or créeent spectacles(contes, theatre). The municipality manages the site, accomodates the public, proposes guided tours, teaching workshops...
Casteland.com particularly thanks the owner for the castle for the photographs as well as the information on this one.