Description of the castle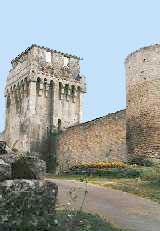 Frame with the edge of the plate, the castle forms a square of 52 side m, flanked with its angles by round towers; in the medium of courtine N-S 1 raises turn-carries square, whereas the mediums of both courtines Is and 0uest is equipped with rectangular turns.

A triangular enclosure of borough sat its base on the Southern side of the castle; it remains about it primarily turn-carries rectangular of XVe century.
1 - The castle-palate
The castle is built in small assized apparatus equipped with chainings of angle; the turns, deprived of slope, open towards outside by slits splayed outside, covered of small cradles of antiquated appearance. Throughout Southern side was laid out a building on two levels forming the residence of the counts de Nevers. Consolidated side escarpments by three large buttresses, it had on the floor a superb decoration of Romance blind arcades in which fit coupled windows into posts and capitals. This building was divided into five by cross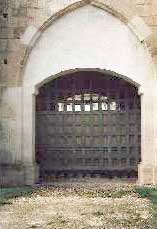 walls: in the center the large room, equipped with six windows was; on each side two rooms equipped each one with a window were; then two small spaces giving access to latrines in corbelling and the turns of angle. It remains unfortunately only this frontage of the palate, undoubtedly provided side court with a great degree. On the North-eastern face the vault was, whose apse was included in one of the two rectangular turns; it is covered with a cradle and a half dome, with large slits of lighting largely splayed towards outside. This unit dates from the third quarter of XIIe century; one can allot the genesis of it to Guillaume III of Nevers, after his return of the Crusades in 1149, but construction could extend front in the century.
2 - Turn-carries
Only access of the castle, it was undoubtedly added subsequently, at the end of XIVe century or XVe century. It is crowned by machicolations with the particularly long consoles, and, above, by a house definitely later.