Castle of Commarin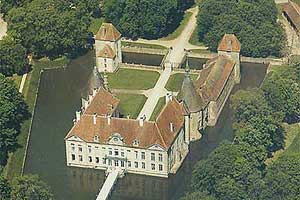 Click on one of the headings below :
The Castle of Commarin, located at the center of Burgundy, 40 km in the west of Dijon, fact part of the Historical Road of the Dukes of Burgundy. Inhabited since its beginnings by the same descent, it was many times in the heart of the French history, Crusades with the Revolution. Since 1967, the Count and the Countess Louis de Vogüé, 25th generation of owners, live the castle. Heirs to a monument which knew to cross the centuries without being sold or being plundered, they endeavour to perpetuate its alive and human aspect. Commarin is an invaluable testimony of the past, each century having brought its print, while respecting that of the preceding generations.
Casteland.com particularly thanks the owners for the castle for the photographs as well as the information on this one.
The castle is open all days :
- on April 1 at November 31 of 10h at 12h and 14h at 18h
Visit Park open all days: 2 €
Visit castle: Adult 6,10 € and Child (6 to 16 years) 3 €
Groups (starting from 12 peoples): 4,60 € and School complexes: 2,30 €
The castle is closed the remainder of the year