Description of the castle


- the defensive structure

The plan of Pierrefonds is composed of a kind of quadrilateral lengthened of a few 90 m broad on 110 m length, supplemented by a tower with each angle and one in the medium of each courtine, is on the whole eight turns of enclosure semi-cylindrical. Each turn was symbolically allotted to a legendary hero of Antiquity or to a valiant knight knight of the Middle Ages: Josué. Stiffs, Hector, Alexandre, Arthur, Charlemagne, Godefroi de Bouillon and finally Jules César. The latter, most powerful of all, guard the entry of the drawbridge and is coupled with the strengthened main building: the keep.

One of the defensive systems characteristic of Pierrefonds is a covered way on double level: that of the turns and that of the courtines. On the lower floor, machicolations, crenels and archères make it possible to neutralize the attacker by the jet of varied projectiles or the shootings of crossbow. A roof in overhang and gunners posted on the higher floor form an effective protection against the climbing using scales. In addition, although there was a difference in level between the stage of the turns and that of the courtines, the higher gallery of the courtines communicated with the lower gallery of the turns. This device allowed a fast circulation and continues all around the fortress according to the points to defend. This mobility made it possible at the same time to decrease the importance of the garrison, protected already well by the almost inaccessible height from the walls.

- a project of imperial residence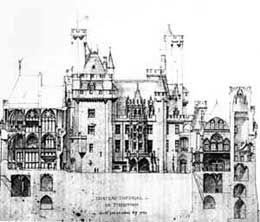 With the origin. Viollet-the-Duc had considered only the restoration of the keep, intended to be used as occasional residence for the emperor. But since 1861; probably allured by the proposals of the architect, Napoleon III decides to build on the ruins of Pierrefonds a sumptuous residence, in the spirit of the romantic movement born thirty years before (with inter alia the publication of Our-Lady of Paris by Victor Hugo).

Viollet-the-Duc then conceives a personal and original creation, which it will not be able completely to complete. Many drawings and watercolours presented at the castle make it possible to realize of the neo-gothic atmosphere which he wanted to create. One will particularly retain the room of Preuses, which was to join together the personal collection of weapons and armours of Napoleon III. The faces of "preuses" take as a starting point those of the empress and by her lady's companions. The room of the empress is a high arched room, entirely painted, on the second floor of the Jules-César tower. The living room-anteroom occupies half of the keep. It is decorated with carved woodworks and a furniture which already announces "the Art nouveau" of the years 1900.

The vault, an astonishing creation of Viollet-the-Duke, does not refer to any preexistent model, particularly the rise in a vast platform arched above the apse. A kind of double apse floods the nave of light. A number of external details are also treated in a very personal way by Viollet-the-Duc, in particular:
large interior court and its decorated gallery open of vaults to boxes and capitals historiés with the style rather Rebirth.
perrons of access.
the ornamentation of the frontages, which are connected with stage sets, with its sculptures of fantastic animals.
Whatever the very personal additions of Viollet-the-Duc, one must leave him the merit have ressuscity one of the last strong castles of France and restore it to us in all his volume five centuries behind.