History of the castle

Dominating the Valley of Adour and Arros, at the Western end of the department of Gers, draws up the castle of Terms of Armagnac. As confirms it its patronym the "term", limit of the grounds of the County of Armagnac.
About 1280, Jean of Armagnac built on a terrace, in a superb site, a castle with austere architecture.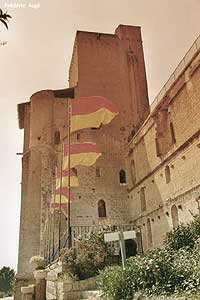 Only the keep remained, splendid stone 36 m height ochres turn, which with that of Bassoues is one of the most remarkable specimens of the military architecture of the Gothic period.
Outpost, it supervised towards the south a possible opening of the troops of Gaston Phébus, placed in the fortress of Montaner.
Thibault, baron de Termes, were born about 1405 and were noticed to with it for its participation, after his/her brothers elder, with the One hundred Year old war At the sides of Jeanne d' Arc, it fought in front of Orleans in 1429, in the troop of Gascons who constituted the entourage of the Virgin: if the English called this Lorraine Armagnacaise, it is that considerable its valorous captains were called Hire, Xaintrailles, Hugues de Verduzan, Jean d' Aulon, etc.; all men of our soil. It was especially known for its admiring testimony, at the time of the lawsuit of rehabilitation of Jeanne d' Arc.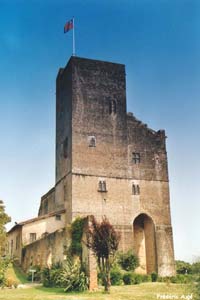 The keep includes/understands four levels, been useful by a beautiful spiral staircase of 150 steps, with trefoil windows, geminated.
Since 1961, the Municipality of Terms in is owner, restores it and maintains it with the assistance the Historic buildings.
In 1984, the Association UTER, consisted the three cantons of Riscle, Aignan, Pleasure and their Tourist offices, decides to promote it and, depuis1985, in company of the Association of the Friends of the Museum of the Gascon Plume, the arranged rooms accomodate the Museum of the Gascon Plume, historical evocations with dressed up characters.
Near the castle the Romance church of Terms is located. A furnace bridge out of gilded wooden, very decorated, surmounted with a rétable (classified) XVIIIème, flowering ash chorus.