---
Midi-Pyrénées

Other regions
& other castles
Previous months'
selections
---
Castle of Montsegur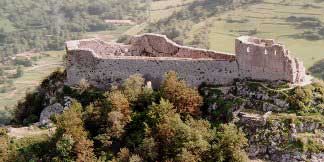 Click on one of the headings below :
Perched at a height of 1200 metres (3900 ft), the ruins of the current site at Montségur is not actually the work of the Cathars. The theatre of terrible events in the year 1244, the fortress was largely remodeled in the second half of the 13th century. The place however remains haunted by a painful past: more than 200 Cathar priests found death in this mythical place, burnt at the stake as heretics for their alternative Christian faith in a huge inferno. Eight centuries after, the flames from this past age still fuel speculation and rumour.
Web Site
- www.montsegur.org
- www.montsegur.fr
Coordinates of the castle
Castle :

Château de Montségur
09300 Montségur

Phone: + 33 5 61 01 06 94

Proprietor : City property - Listed monument
Date and schedule from the visits
The castle is open :
- in May, June and September, guided tours on Saturdays, Sundays and public holidays at 2pm and 3pm.
- in July and August guided tours every day at 11am, 2pm, 3pm and 4.30pm.

Tours possible all year round for large groups (minimum 20 persons). For bookings please contact the guide directly by phone :
+33 (0) 5 61 01 06 94.



Castle-Gaillard
Normandy - France
---