Chatel Castle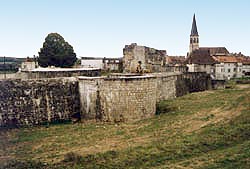 Click on one of the headings below :
Built over a calcareous headland at the edge of the Moselle and isolated from the plate by ditches of 57 meters width, the castle dominated the city and its enclosure, flanked of twelve turns and equipped with two porteries. Around a large square keep, the primitive castle of XIe and XIIe centuries were increased at the beginning of XIIIe. It knew in XVe century a considerable extension and an early adaptation to artillery. The cumulated length of its two enclosures, flanked of 21 turns, reached 1,4 km. The association of the Châtel Old man accomodates also days, workshops, classes of inheritance as well as training courses of formation.La festival of the ramparts programs exposures, concerts and various demonstrations.
Casteland.com particularly thanks association for the old Châtel for the photographs as well as the information on the castle.
The castle is open:

- all days of July 1 at September 30 with guided tours with 15, 16 and 17 hours.
- the remainder of the year even time Saturdays, Sundays and public holidays for the week only on go.
Tariff: 4€ by adult into individual, 3€ by adult in group and 1€ for the children