---
LORRAINE

Other regions
& other castles
Previous months'
selections
---
Blamont Castle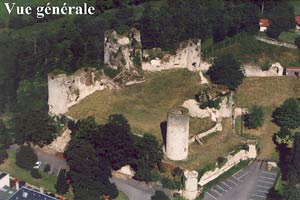 Click on one of the headings below :
Built starting from the end of XII century, increased successively at XIII, XIV and XVII century, the castle of Blâmont is one of the most beautiful vestige of the medieval fortification in Lorraine, thanks to the conservation of rise in 5 turns. Since 1991, the Keystone association of Blâmontois?uvre to the restoration and the development of this inheritance thanks to the organization of building sites of voluntary young people who initiate themselves with the traditional techniques of masonry, extraction and stone size. It organizes since 1995 a medieval festival and works with many school complexes.
Casteland.com particularly thanks Key association "for voute of Blâmontois" for the photographs, the texts as well as the information on the castle.
Web Site
- No web site
Coordinates of the castle
Castle :

Château de Blâmont
54450 Blâmont

Mail : Association Clef de voûte, Mairie, 54 450 Blâmont
Email : moulis73@aol.com

Proprietor : City property - Listed monument
Date and schedule from the visits
The castle is open:

- all July
- Sundays afternoon of August until the days of the inheritance
- the remainder of the year: groups on go (rens. by mall)
- Building site of restoration of Monday June 30 at Sunday July 27, 2003 (rens. by mall)
- medieval Festival: Sunday July 6, 2003 (rens. by mall)


Castle-Gaillard
Normandy - France
---