---
LIMOUSIN

Other regions
& other castles
Previous months'
selections
---
Castle of Lastours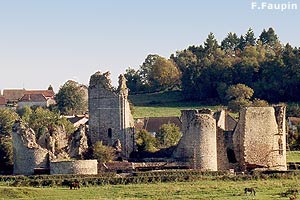 Click on one of the headings below :
The site of Lastours carries testimony of several times of occupation, from the Neolithic era to our days. It is at the Average Age that Lastours, great seigneuriale family of the area to the head of powerful a châtellenie, enter the history and the legend, with in particular Gouffier, the "Knight with the lion", hero of the first crusade. From this long and rich period, the feudal mounds as well as the vestiges of the imposing strong castle remain.
Web Site
- No website
Coordinates of the castle
Castle :

Castle of Lastours
87800 RILHAC-LASTOURS

Plone : + 33 (0) 5.55.58.38.47 ou (0) 5.55.58.34.78
Email : ASPEL-lastours@wanadoo.fr

Proprietor : Departement property - Listed monument
Date and schedule from the visits
Visits of day of the ruins of the Castle of Lastour: On go for groups, guided tours, animated visits, adaptable formulas...


Castle-Gaillard
Normandy - France
---