---
LIMOUSIN

Other regions
& other castles
Previous months'
selections
---
Castle of Chalucet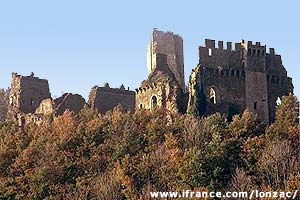 Click on one of the headings below :
History of the castle
Two strengthened sets: Châlucet-haut and Châlucet-bas. The unit is of exceptional scientific interest with in the same site, a castle of rather recent design, inspiration of the north of France (Châlucet-haut) and a few meters further, the shape of castle which one traditionally finds between the 12e and 14e centuries in the south of France (Châlucet-bas).
Web Site
- No website
Coordinates of the castle
Castle :

Castle of Chalucet
87110 LE VIGEN

Phone : + 33 (0) 5.55.00.96.55

Proprietor : Departement property - Listed monument
Date and schedule from the visits
The castle is free access.

- the guided tours are proposed on request, of July 1 at August 31. The departure at the house of reception, the foot of the castle.

Tariff: 2 € (free for less than 12 years).

Stroll told at 3 p.m. 30, every Sunday afternoon until September 7, it is possible to discover Châlucet in a a little different way. The preliminary inscription is obligatory at the house of reception.

Tariff: 3 € (free for less than 12 years).


Castle-Gaillard
Normandy - France
---