History of the castle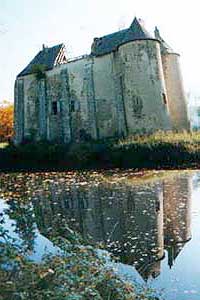 Bazaneix is an old castle réhaussé of its turns and surrounded by a running water ditch which defended it with the Middle Ages. We have traces into 1335 of Etienne of Aix, lord of Bazaneix, then of Eymeric of Aix lord until 1375. Jean of Peyssarie succeeded to him by alliance until 1414, date on which his son-in-law, Robert de Ligneyrac became the new lord of the place.
Bazaneix passed in 1691 to the House of Soudeilles which sold it in 1777 to Jean Antoine d' Amarzit of the Greenhouse. Under the Revolution, it passed to the hands of Jean-baptiste of the Vault of which the daughter-in-law, Mrs Serroux de Bienville the receipt in 1874.
About 1924, of Amarzit resided at it. Before the last war, Miss d' Amarzit married the count de Beaumont Beynac which it left for a commoner, leaving the castle to the abandonment, until today.