History of the castle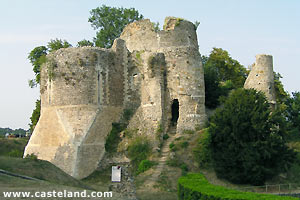 Built at the end of XIe century by Roger III of TOSNY, lord of Conches. The thickness of the walls is of 2,60m. The walls and the embrasures of the windows were coated with a bed lime mortar mixed and fine sand in order to give a nobler appearance to this flint construction. The roof conical and was surmounted by beautiful terra cotta ears representing of the figures of birds and animals. There were at least three stages.
Ground floor: It was the reserve of the food, It did not have there windows.
1st stage: A well was used to feed the drinkable water tower. It was emptied in 1849. A chimney was in each room.
The called principal tower Captal acted as second keep. The origin of this name comes from the governor of Conches Captal de Buch, lieutenant de Charles the Bad one. It made build this tower in 1363, vis-a-vis the invasion of Of Guesclin.
- Principal seats of the castle
1090: War of the smart ladieies.
1199: Philippe Auguste, king de France. In 1202, it lays out the field of Conches in favour of his cousin Robert de Courtenay.
1364: First English occupation.
1371: 100 year old war. Bertrand Of Guesclin, captain of the king Charles V, seizes Conches.
1420: Conquest of Normandy by the English, Henri V, king d' Angleterre seizes Conches. The castle is taken again in 1440 per Charles VII, king de France.
1441: New English occupation.
1449: The French, under the command of Robert de Floques, baillif of Evreux, carry attack the town of Conches.