History of the castle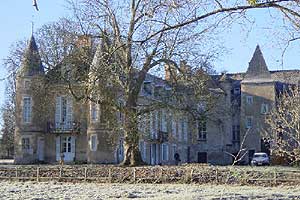 the castle of island formerly called the castle of chaumes , was built by guillaume de ferrieres, lord of island and of la chaume, from 1448. His son jean, in 1460, sold some woods to the inhabitants of pontaubert and released his vassals of island from their feudal obligations for 500 pounds and an annual tribute of 5 pennies per household.
In 1510 his grandson, philippe de ferrieres, pledged the duty and hommage of his estate to phillippe de chastellux, who was the overlord of island. In 1581, etienne fitzjean and his brother george, from a distinguished family of magistrates from avallon, bought the chateau from the ferrieres family. they then pledged duty and rendered hommage in 1599 to olivier, lord of castellux.
in 1617, madeleine fitzjean married francois de longueville (1611-1668), lord of domecy. this meant the joining of the two families of island and domecy.
Jacques, the oldest, inherited the family seat of domecy; phillippe the youngest inherited the land and property of island with its castle of chaumes. The will of phillippe de longueville left the property of island to his three nephews: etienne, francois and pierre thomas.
Etienne Thomas the shares of his two brothers thus becoming in 1695 lord of island. on his death in 1710, francois, his brother together with his nephew, the son of pierre, became the estate¹s owners. The property next passed to nicolas thomas, son of francois. in 1759 his son, also named francois, took possession of the property and its castle of chaumes.
Hhis daughter, marie pierrette thomas inherited the castle. in 1788 she married jean de contye, a captain of the dragoons, and then a second time to aime renier de fargis. widowed during the terror, she married yet again, in 1798, her estate manager,, a farmer named hilaire dorneau, who inherited the castle on her death at the start of the 19th century. he oversaw the construction of the new wing (built at the end of the 18th century) joined to the end of the original castle and forming an east west axis.
One of his descendants, mme. amelin, born a dorneau, wife of the former under-prefect of avallon bequeathed in 1892 the sum of 140000 francs to the church and municipality of island. the chateau remained in the amelin family until february 1977 when marie and philippe claverie bought the chateau and restored it in order to create an exclusive setting full of historical interest.
the castle of island, more than 500 years old, has thus only ever been sold twice.