---
ALSACE

Other regions
& other castles
Previous months'
selections
---
Castle of Wildenstein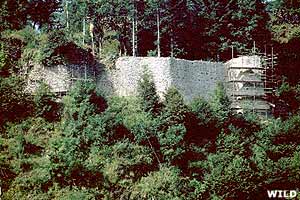 Click on one of the headings below :
The castle of Wildenstein, one of largest of Alsace, is located on the round of applause of the commune of Kruth, in the North of the village. It occupies all the summit part of a Rocheux piton called Schlossberg which culminates at an altitude of 666 meters, overhanging in the North-West the artificial lake of Kruth - Wildenstein. This fortress in charge of history remains ignored general public.
Web Site
No website
Coordinates of the castle
Castle :

Castle of Wildenstein
68820 Kruth
OFFICE DE TOURISME
81, rue Charles de Gaulle - B P 2, 68550 SAINT-AMARIN
tél. 03.89.82.13.90 Fax : 03.89.82.76.44
Email : contact@ot-saint-amarin.com
Date and schedule from the visits
The ruins of the castle are free access.


Castle-Gaillard
Normandy - France
---