Castle of Spesbourg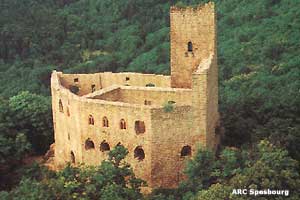 Click on one of the headings below :
The general aspect points out the castle of XIIIe century, with a keep of approximately 24 m whose access is not possible that by a door placed high.But the side of "the attack", at North, does not present the usual profile points some that one exposed since 1200 to the attacker to deviate the projectiles. Quite to the contrary, Spesbourg proposes only one broad flat wall, a wall "shield" of which the thickness, curiously, is not distinguished from the walls East and South. The manufacturer as well as possible occupied space available on the rock and places the home seigneurial side Is, with the shelter of the bad weather, but militarily fragile. General equipment, very neat, testifies to the ease of the owners of the time. These elements confer on Spesbourg the characteristics of a manor which sacrifices the military requirements of XIIIe century to the needs for the approval of the residence of a noble family of XIVe century.
Casteland.com particularly thanks association for the castle like Gabriel Gehenn for the photographs as well as the information on this one.