Coudray Salbart Castle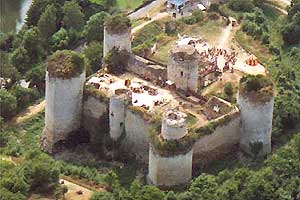 Click on one of the headings below :
Coudray Salbart is an exceptional castle, initially by its fast evolution and the changes of program which one affected over one short period, a little more of the quarter century. Its architecture is deeply influenced by the Plantagenet uses: Profiles of the turns in fine, which one finds with the castle of Loaches before 1205. The principal part of the castle shows a flanked quadrangular enclosure of six round towers, all different. They are connected by a sheath, a long corridor spared in the thickness of the walls. Tens of arched rooms, defended by archères, testify to the quality of the construction and its excellent state of conservation.
Casteland.com particularly thanks the site www.salbart.org for the photographs for the castles as well as the information on this one.