---
Ile de France

Other regions
& other castles
Previous months'
selections
---
Louvre Medieval Castle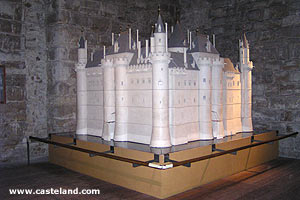 Click on one of the headings below :
Although the Louvre is known today as a famous Art Museum, it started its' life as a key royal fortress in the heart of Paris. It was built after 1190 by the French king, Phillip Augustus. It's design and decoration revolutionised castle construction and served as a model for the next three centuries. The foundations of the castle are still visible underneath the museum of today.
Web Site
- www.louvre.fr
Coordinates of the castle
Castle :

Castle médiéval of Louvre
Musée du Louvre
75001 Paris

Phone : + 33 1 40 20 50 50 Fax : + 33 1 40 20 54 42
E-mail: info@louvre.fr

Proprietor : Private property - Listed monument
Date and schedule from the visits
The castle is open all days except Tuesday :
- of 9h at 18h (open Monday and Wednesday until 21h45).
The museum is closed the 01/01, 05/01, 11/11 and the 12/25.


Castle-Gaillard
Normandy - France
---